The Importance of a complete and optimized Google Business Profile
Hundreds of potential customers are searching for products and services you offer daily. Are they finding you or your competition? A complete and optimized GBP profile directly impacts how many people find your business on Google when searching for your brand, services or products. It's free to create a business profile with Google, so take advantage of this highly visible asset for your business and be found in search and on Google Maps. Here's what you need to know about optimizing your GBP profile.
Why is a GBP Profile Important?

Your GBP profile is one of the first things potential customers see when they search for your brand or products/services on Google. It appears on the right-hand side of the search engine results page (SERP), on desktops giving searchers quick and easy access to key information about your business, such as your hours, address, phone number, website, and customer reviews. On mobile devices it can appear first in search results with brand searches, ahead of map pack and other organic searches.
In addition to providing searchers with key information about your business, a Google Business Profile also helps you manage your online reputation. This is because you can respond to both positive and negative reviews publicly on your profile. Responding to reviews shows potential customers that you are attentive to customer feedback and care about providing a good experience – both hallmarks of a great business.
Find out what is happening with your Google Business Profile
A GBP profile gives you insights into how customers are finding your business on Google. The "Insights" tab on your profile provides data on things like how many views and actions (e.g., clicks on driving directions) your listing generates, what search queries are bringing people to your listing, and what devices (e.g., mobile, desktop) searchers are using. This information can help you make informed decisions about further developing your marketing campaigns and website.
Google Business Profile Optimisation Tips
Below are some quick tips for optimizing your profile -
Make sure all the information on your Google Business Profile is accurate and up-to-date
Use keyword-rich descriptions to describe your business
Include images and videos
Add your products and services
Leverage customer reviews
Monitor and respond to reviews regularly
Post updates, add an offer, or add an event
Use Insights data to inform marketing decisions
Keep track of changes made to profiles by competitors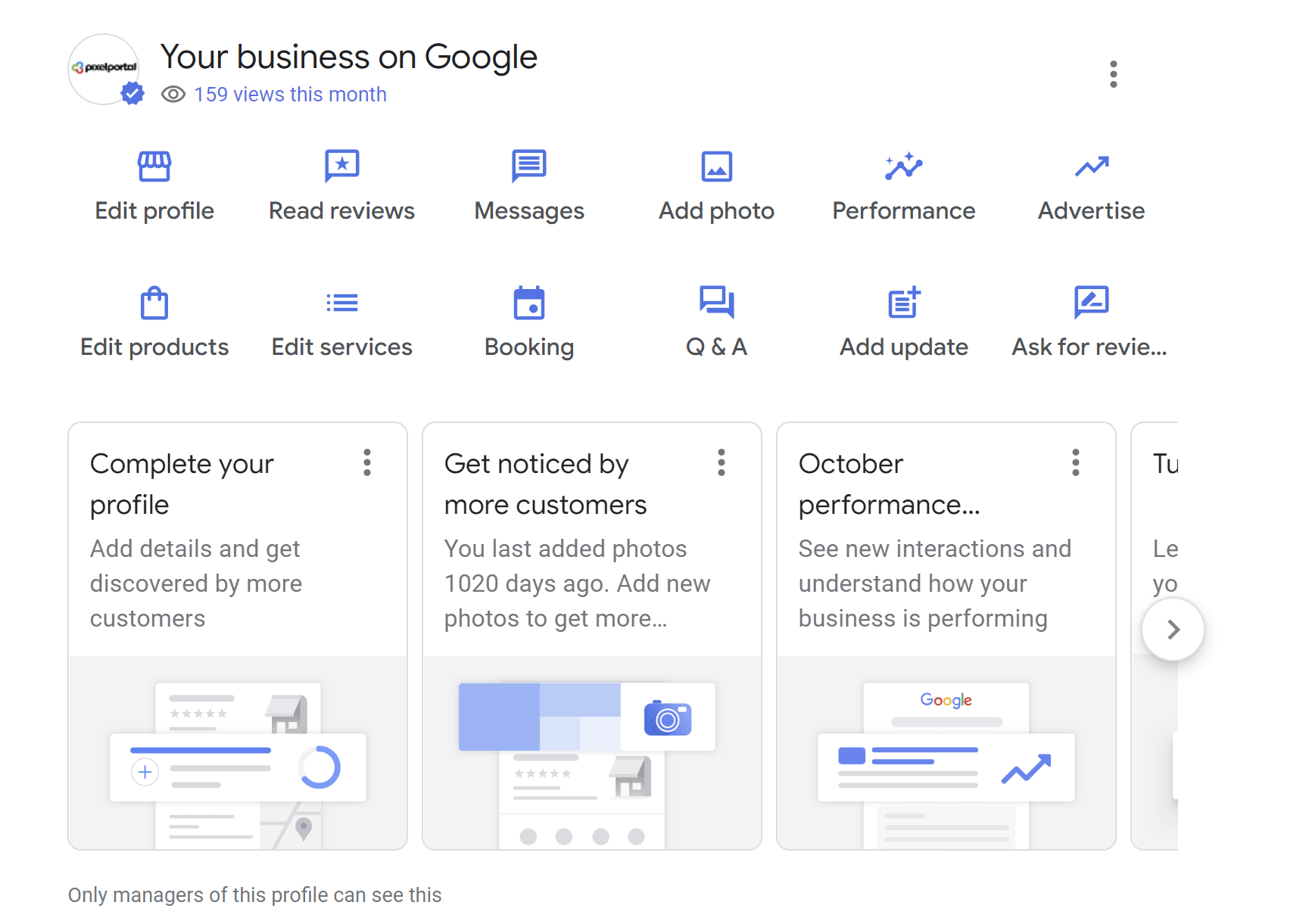 Edit your Google Business Profile directly in the browser. You'll need to be logged into Google with your Google account and assigned access to manage the profile.
As a business owner, it's important to understand the role that an optimized Google Business Profile can play in driving awareness and foot traffic to your business. A complete and well-optimized profile can help you attract new customers while also giving you valuable insights into how customers are finding and interacting with your business online.
Your Google Business Profile is an essential tool for attracting new customers. By taking the time to complete all fields, add photos and videos, encourage customer reviews, and create special offers, you'll be well on your way to driving more traffic—and sales—to your business.
By following the tips outlined above, you can ensure that your GBP profile is working hard for your business. Having a well-optimised profile can help you attract more customers and grow your business by making it more likely that potential customers will find you when they search for you on Google and by helping improve your ranking in Google's local search results.
Need help optimising your GPB?
We also help our clients optimise their Google Business Profiles. Need help?
Back to blog list

⟶