Google Business Profile Review
Are you doing everything you can?
Your Google Business Profile can do amazing things to attract new customers
Hundreds of potential customers are searching for products and services you offer daily. Are they finding you or your competition? A complete and optimized GBP profile directly impacts how many people find your business on Google when searching for your brand, services or products.
Sadly, it is an important factor that is often overlooked by businesses when working on a site or their search engine optimization.
Your Google Business Profile appears right when people are searching for your business or businesses like yours on Google Search or Maps. Google make it easy to create and update your Business Profile—so you can stand out, and bring customers in.
Are you doing everything correctly on your Google Business Profile?
Get an actionable strategies to help your GBP profile perform better
Most agencies will make optimizing your GBP profile sound like rocket science when speaking to you about it. The good news is we've eliminated the technical jargon and will presented you with exactly what needs to be done. This way you can stop guessing about why your business isn't being found online and learn exactly how to fix it.
How do I find my Google Business Profile?
Ensure you're logged in with your Google Account. Just like any other social platform, you need to be logged in with a personal account. Go to the search bar in Google Search and type in "my business".

If you are logged in with the correct email address associated with the Google Business Profile, you'll see the options to access and make changes to your profile in the browser.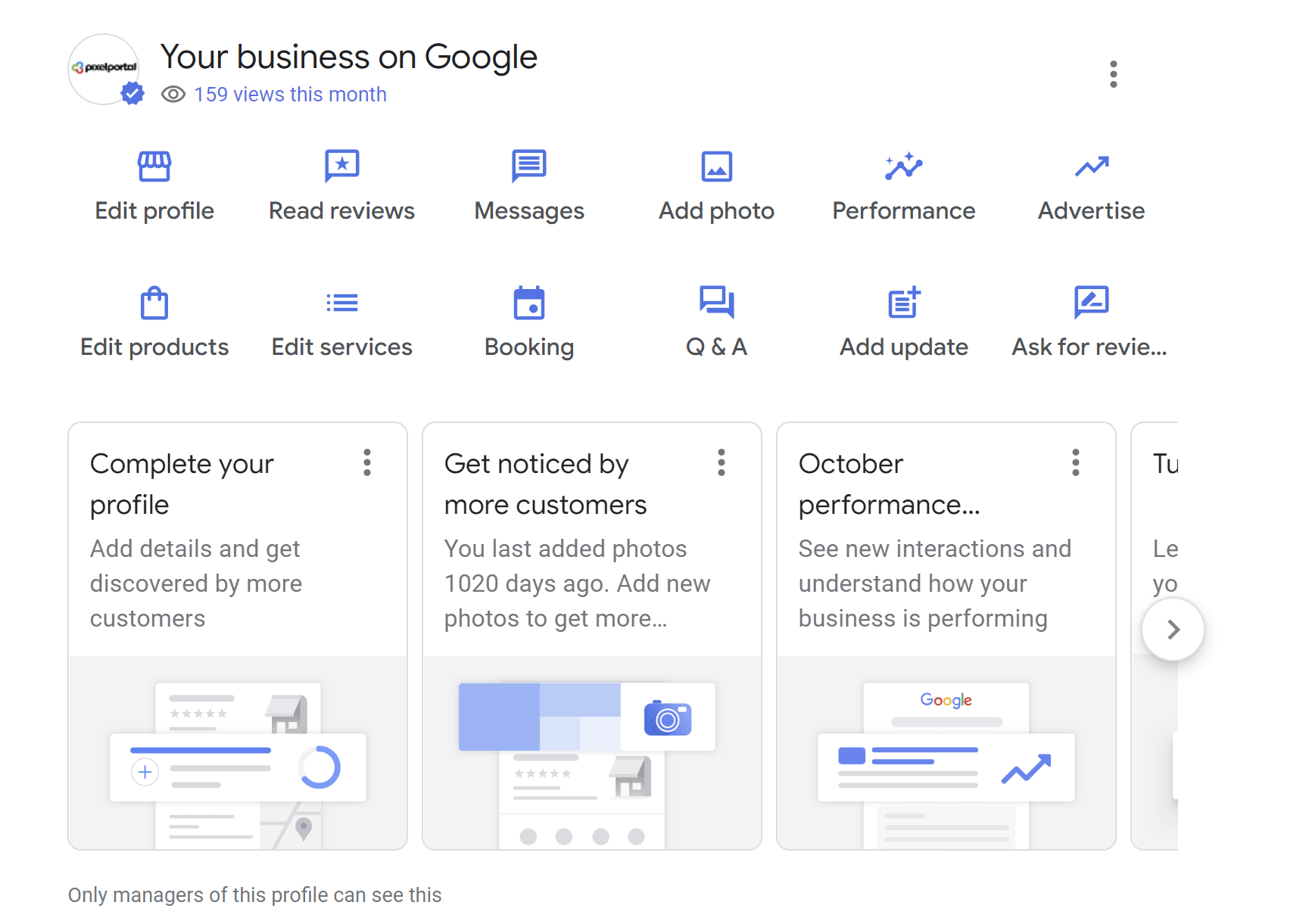 More reading about Google Business Profiles
27 Oct 2022: New Google Business Profile Web Search Menu Now Rolling Out. New dashboard right in your browser. Read more from Search Engine Round Table
08 Nov 2022: Google has rolled out the new editing experience within the search engine results pages (SERPs) for anyone managing Business Profiles.
Read more from Bright Local
09 Nov 2022: Do more reviews boost my local pack listing? Is it true that reviews are a ranking factor in local search, but what does that really mean? Read more from Sterling Sky
13 Dec 2022: Google Category Confusion Back in 2019, Darren from Whitespark tested the effect of irrelevant additional categories on the rankings of listings, and he found out that they negatively impacted rankings. However, when he did the same test three years later, the results were different. Watch the video
14 Dec 2022: How to make the most of the new Google Business Profile dashboard Learn what has changed with Google Business Profile Manager Your business will no longer have access to the old Google Business Profile dashboard - You will now be directed to the NMX, (New Merchant Experience), where page edits are made directly within the SERPs (Search Engine Result Pages).
14 Dec 2022: Are Reviews on Google More Powerful When They Come from Local Guides? Learn if a review from Google Local Guide Google Business Profile will make any real difference to our Google Business Profile